I know you are a writer, so thinking of blog posts for your author blog should be a no-brainer, right?
Except it isn't. Sometimes you just run out of ideas.
Sometimes your creativity acts like it didn't drink its coffee for the day.
Sometimes you just want some help brainstorming some blog topics or titles.
And that's okay. (In fact, I usually give my clients some worksheets to help come up with blog topics that are SEO rich and full of creative possibility for that very reason.)
Now there is a new tool to help you (but I caution it is probably best only for those days when you need help with your blog).
And even better, the tool is free!
Hubspot's Blog Topic Generator!
This topics generator is pretty easy to use. Simply input three nouns and press the button. The topic generator will then provide you with 7 headlines that you can build a blog with.
blog topic generator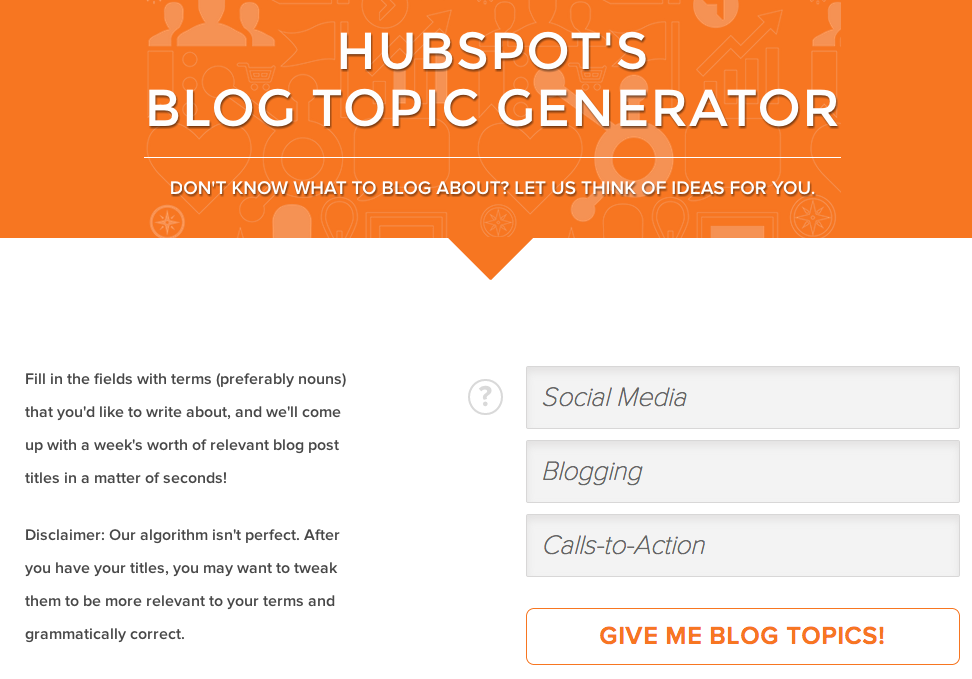 Caution: This tool is not perfect! Some of the headlines won't make sense for your topic. Some will need to be rewritten to be grammatically correct. Some of them will just be stupid.
"So why are you recommending a tool if it isn't perfect?" you ask.
I think the tool has some merit. If nothing else you can use it as and idea generator. We all know that sometimes a writer just needs an idea in order to get past writer's block. And in that way, the Blog Topic Generator fits the bill.
Your turn:
Did you try it? Did you like it? What was the most stupid title it suggested for you? Share below so we can all have a laugh!